The Real Estate Industry in Trinidad and Tobago touches on a wide range of activities, including buying and selling property, design, construction, property development, property management, valuations, consultancy services, property conveyancing.
As a real estate agent, it is important to know something of the various other activities that impact and are, in many respects, closely allied to the business of marketing real estate. There will be constant dealings and contact with many other allied professionals in the normal course of real estate activity.
One may also see opportunities in these other areas for an alternative career path. The initial training and experience of selling real estate would be a useful background asset.
Before describing in some detail the basic operations of a real estate brokerage, let us look at a brief description of the following allied professions:
Real Estate Developer

Architect and Contractor

Quantity Surveyor

sub-Contractor

Chartered Valuator

Property Manager

Mortgage Institution

Mortgage Broker

Conveyancing Attorney-at-Law

Property Consultant

Land Surveyor

Search Clerk
Let's look at these in detail: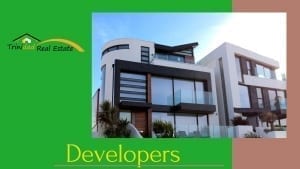 1. Real Estate or Property Developer
Generally speaking, a developer is a person or firm that owns or acquires a parcel of land or a building and enhances its value through development/improvements to sell or rent it for a profit. This development can be done on a one-off basis by an individual or firm with a single property. It may be the company's main business to continuingly buy and develop real estate (e.g., Home Construction Limited).
The development could take the form of sub-division of a fairly large parcel of land into smaller plots for sale as land, or it could entail the construction of buildings on such lots. Another type of development is the renovation or restoration, or expansion of an existing building to enhance its value (e.g., Trincity Mall), or the construction of a tourism resort on an Estate such as Tobago Plantations in Tobago.
A developer's objective is to increase the land's value or build above the cost of development to profit from its eventual sale or rental. The importance to a real estate agent of understanding the development process is that he may, from time to time, asked to advise a developer on the state of the market, demand in different sectors of the market, the types of houses that might best suit the development and soon.
The development is listed for sale with the agent when complete, so any input in the early stages of planning will benefit everyone. 
2. Architect and Contractor
These are two quite distinct specialized fields, but they are closely related. An architect produces the concept and detailed interior space design and exterior elevations under the constraints of the land, weather, required use, building standards, budget, and, of course, the owners' needs.
The contractor assembles the necessary skilled and unskilled workers and equipment needed to carry out the architect's detailed plans. An architect produces a design and draws up detailed specifications and quantities of materials and work scope. 
Usually, the architect, in consultation with his client (the owner of the property), will invite tenders from a selected group of building contractors for the construction of the building, or in the case of land development, for the laying out of roads, drains, water, sewerage, and whatever utilities are in the development.
Often an architect works together with an engineer within his organization or as a separate business. Some architects may have both architectural and engineering degrees. For a small residence design, an engineer may not be necessary, but structural engineering and design become more complex and require engineering input for large buildings.
Occasionally, the buyer will ask an established broker the advice on the selection of an architect or contractor, so it is helpful to keep abreast of what goes on in the construction industry. It is therefore advisable to know a few local architects and contractors whose work you have seen.
3. Quantity Surveyor (often called a Q.S. in Real Estate industry)
The Q.S. is a common profession in all countries, but it is well established in the United Kingdom and Europe. There are also many firms of quantity surveyors operating in Trinidad and Tobago.
It is usual for all construction projects to employ a quantity surveyor once the project is above a certain value. The quantity surveyor's function is to prepare a full list of all materials and sub-contracts required for the construction of the property.
Invited contractors who bid for the job are obliged to bid based on the quantity surveyor's list. This process ensures that all bidders are quoting on the same specifications and quantities.
Some contracting firms employ their own Q.S. to prepare lists of materials and work out costs to enable them to quote on jobs where the client does not use independent quantity surveyors. In contracting companies, it is usually their Q.S. who works out the details as a basis for the firm's tendering on jobs.
Once a construction job begins, it is the independent Q.S.'s responsibility to monitor the materials on-site and the extent of work done at various stages of the construction and to authorize interim payments to the contractor. It is the norm on construction projects for the contractor to be paid at regular intervals, typically called 'draws,' as work progresses.
Another function of the Q.S. is to prepare valuations of the property based on replacement cost as distinct from market value. This valuation is done for insurance purposes, for establishing a basis for a claim, or to attribute value where comparable sales data are not available.
4. Sub-Contractor
The contractor is often made to submit a detailed list of the sub-contractors and their tenders. Although some major construction companies offer full or nearly full in-house services, it is more usual for a prime contractor on a project to subcontract a lot of the more specialized parts of the work. When parceling out such sub-contracts, the main or prime contractor usually adds a small percentage to the subcontractor's bid or specifies that the bids include this percentage to cover project monitoring, co-ordination, insurance, security, the use of scaffolding, cranes, etc.
In submitting a tender for a large project, the owner may, in some cases, reserve the right to reject certain sub-contractors for just cause.
Some of the more common specialties that are sub-contracted are:
Structural steel framing
Plumbing, sewerage

Electrical supply

Windows and doors, store-front

Ceilings

Floor finishing (tiling, carpeting, hardwood, parquet)

Roofing

Painting

Rendering or plastering

Air-conditioning

Fire protection, alarms, electronic controls

Elevators

Roads drain, car parks

Landscaping     
5. Chartered Valuator (also called a Valuer)
A chartered valuator is a professional who has completed a degree-level course and has been accredited by the Royal Institution of Chartered Surveyors (RICS), which is the world-recognized body governing professional valuators and surveyors in land, property, and construction sectors.
Usually, banks and mortgage institutions require formal valuation reports to establish how much they can lend, taking certain property security for a loan. Or, in the case of a defaulting borrower, they may require a valuation before putting the property up for sale after foreclosure. Firms owning properties require valuations from time to time to confirm asset values for their balance sheets or insurance purposes.
Companies may also want a formal Valuation
Also, individuals or firms may want a formal valuation before putting their property up for sale. Mortgage or loan institutions will typically engage firms of professional chartered valuators for such purposes. There are several such firms in this country, and all banks have a panel of approved valuators. Attorneys-at-Law will also require a valuator's services from time to time to ascertain value for litigation purposes of valuing the estate of a deceased person.
All real estate agents must have a working knowledge of how market value is assessed as they are expected to advise each client who entrusts them with a property to sell or rent on its fair market price. This assessment of value must be done based on properly laid down guidelines and, of course, market experience.
It is laid down in the preamble to the Real Estate Code of Ethics that agents should refrain from giving professional advice outside of their competence field. Let us just understand now the agent's réle in assessing market value as opposed to the chartered Valuator.
Real Estate Brokers May Be able to Help
There are some established real estate brokers who are competent to provide formal appraisals. These brokers have years of field experience, and even though they may have no formal qualifications in valuation, their knowledge of property prices and locations over the years gives them a great advantage.
This does not mean that any real estate broker can claim to be a valuator and advertise themselves as such, but it is expected of any professional agent that he or she will be competent to appraise market value for their clients, having a good understanding of comparable values in their part of the country or area of operation, say commercial or industrial as opposed to residential, or Trinidad as opposed to Tobago.
Real estate agents should get to know the panel of valuators approved by the major mortgage institutions. It is ideal from the real estate agent's point of view for the vendor to provide such a professional valuation when listing a property for sale. This protects the vendor from selling below market value, but it also ensures that a buyer can arrange his mortgage financing before making a formal offer since a valuation report already exists.
6. Property Manager
In some countries, property management companies are thriving businesses. In Trinidad and Tobago, there are very few large companies engaged in this field, although it offers quite attractive business opportunities. A few established real estate agencies in Trinidad do
undertake property management on a limited scale, but in Tobago, where villa ownership by non-resident owners is commonplace, almost every agency offers a full range of property management services. 
A property management company would normally offer the owner services such as finding tenants (which would be short-term holiday rents in Tobago), collecting rents, looking after the maintenance and repair of the property, the security of the property, paying utility bills and staff, purchasing miscellaneous household items, and generally trying to secure for the owner the best return on his investment while maintaining the asset value of the property.
Monthly Fees for Property Management
The property management company can charge a monthly retainer fee (a common practice in Tobago especially) for on-going maintenance and usually earns a commission as a percentage of the rental revenue collected (10% up to 20% in Tobago). It is also typical to charge a 10% supervisory fee on the cost of maintenance work where a contractor has to be employed, coordinated, and supervised by the management company.
Where new tenants have to be found at the termination of a lease, the property management company will charge the normal fee for securing a new tenant if they are also real estate agents. If they are not real estate agents, they will employ an agent to do so at the owner's cost.
There are opportunities here to seek out clients such as large property owners, condominium companies, absentee landlords, etc. and offer them such services. But many large companies owning or leasing a number of properties will employ within their organization a property manager to ensure that the company's property is put to the most efficient use. Property management is a field with much scope, challenges, and career opportunities.
7. Mortgage Institution
This is one of the most important sectors of the real estate business. Without mortgages, the construction and marketing of properties would virtually come to a standstill. Mortgage institutions are financial institutions set up for the primary purpose of long-term lending of money to finance the acquisition of property. A lot more will be said about mortgages.
Mortgage institutions employ persons who specialize in dealing with properties, not only in assessing risks of lending but also in the handling of foreclosures and eventual disposal of loan defaulters.
Mortgage institutions often sell such properties themselves (sale by Mortgagee), although they can work closely with real estate agents to do so. There are, therefore, opportunities in those firms for persons with training and expertise in real estate marketing and sales.
In some countries, a very important aspect of the real estate agent's operation is to secure and arrange a mortgage for the buyer. In Trinidad and Tobago, mortgage institutions traditionally did not solicit business through real estate agents, preferring to negotiate mortgage terms with the borrower, but in recent years recession has had an effect on mortgage borrowing, and with excess liquidity, mortgage institutions have begun to approach the real estate agent, even offering a referral fee to encourage introductions to their buyers.
All agents and salespersons should have a working knowledge of the names and the terms offered by local mortgage institutions as well as the general criteria for pre-qualifying a prospect for a mortgage loan. Prospective buyers are often ignorant of the mortgage process and will seek such information from their agents.
8. Mortgage Broker
A mortgage broker arranges mortgages for those interested in seeking a loan. This is a comparatively new field in Trinidad and Tobago but very useful service. A mortgage broker would have up-to-date information on all of the mortgage funds, rates, and terms and advise his client on the most competitive source for his needs. There is normally a small fee payable by the borrower.
9. Conveyancer
Conveyancing is a major part of the legal profession, and some attorneys specialize in it, while most law firms have dedicated conveyancing departments. Conveyancing is the legal process by which ownership of a property is transferred from one party to another, always in writing. It is in the purchaser's best interest to check whether his attorney is experienced in the field.
All agents need to have a general knowledge of what conveyancing entails and the documentation required by an attorney to handle the conveyance. Agents are often the conduit from the seller to the attorney for the documentation needed to complete searches. Quite often, the mortgaging of a property takes place simultaneously with the conveyancing, and the mortgage deed can be handled by the same attorney or by separate attorneys.
The real estate agent will often be asked to provide support documentation to the bank's attorney if different from the conveyancing attorney. Real estate agents should provide a list of attorneys for their prospective purchasers to choose from. It should be noted that attorneys offer a discount if they handle both the mortgage deeds and the purchaser's conveyancing documents.
10. Real Estate Property Consultant
This is a field in which an expert on real estate advises a potential investor or developer on how to go out about investing in real estate and obtaining the best returns on his investment (R.O.I.). This is not a highly developed field in Trinidad and Tobago but is mentioned because it offers a potential business opportunity for those who become well established and experienced in real estate and its inter-connected aspects.
These might include finding the right undeveloped land for the intended use, applying for development approvals, guiding an environmental assessment study (E.I.A.), being familiar with environmental constraints on the land selected, sourcing funds, sourcing financial incentives from the government, and advising on local property market forces.
11. Surveyor
Surveying or land surveying is the technique, profession, and science of determining the terrestrial or three-dimensional position of points and the distances and angles.
These points are usually on the Earth's surface. They are often used to establish land maps and boundaries for ownership, locations like building corners or the surface location of sub-surface features, or other purposes required by government or civil law, such as property sales. A land surveying professional is called a Surveyor.
12. Real Estate Search Clerk
This is a person contracted by an attorney-at-law to search title to land at the government Land Registry, in T&T located at the Red House, but now also available online. Searches will show not just who is the registered beneficial owner but also registered encumbrances, liens, and charges such as a mortgage or Lis Pendens or a judgment against the titleholder.